Innovative waste management
Sensoneo is a global enterprise-grade smart waste management solutions provider that enables cities and businesses to manage their waste efficiently, lower their environmental footprint, and improve the quality of services. Sensoneo helps to cope with the biggest challenges in today's world of waste management – lack of efficiency and transparency.
As an outcome, the solution enables the customers to achieve a 30 % – 63 % reduction of waste collection routes and 97 % accuracy on actual waste production. Sensoneo has been installed in over 60 countries through its reseller partners. Sensoneo hardware & software is the result of in-house R&D.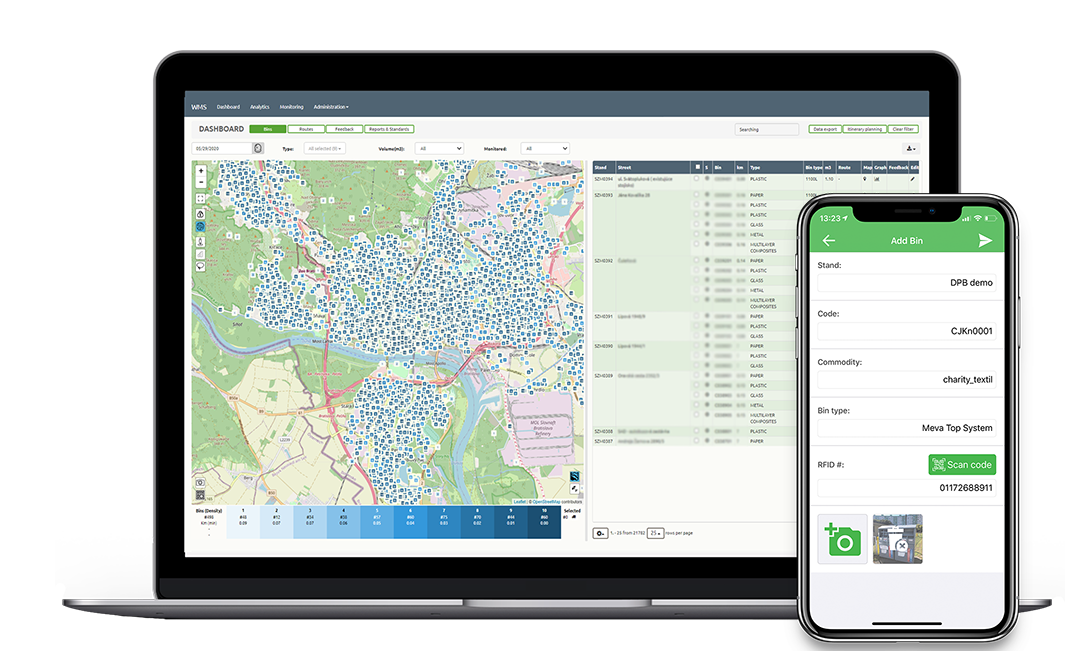 Waste Asset Management for trash bins
Sensoneo Asset Management solution allows cities and businesses to get a clear understanding of the complex bin infrastructure they manage. 
Sensoneo Asset Management solution enables you to digitize your bin infrastructure. It combines RFID tags and stickers, Smart Waste Management System, Mobile App and RFID readers.
By tagging all bins and containers you identify and record all assets (bins) in a digital inventory in the Smart Waste Management System, powerful cloud-based platform. RFID features enable automatic service verifications and automatic update of the bin database.
Get a proof-of-service
Simple bin tracking, communication and invoicing
Read more
Waste monitoring with Smart Sensors
Sensoneo Waste Monitoring solution allows cities and businesses to uncover and finally understand the complex dynamics of their waste production.
Waste Monitoring solution combines Smart Sensors, Smart Waste Management System and Citizen App. The Smart Sensors use ultrasound technology to measure the fill levels in bins and containers and send the data to the Smart Waste Management System, a powerful cloud-based platform, via the Internet of Things (Sigfox, NB-IoT, LoRaWAN, GPRS) providing cities and businesses with data-driven decision making, and optimization of waste collection routes, frequencies and vehicle loads.
Collect only full bins
Waste collection savings ranging between 25-63%
Read more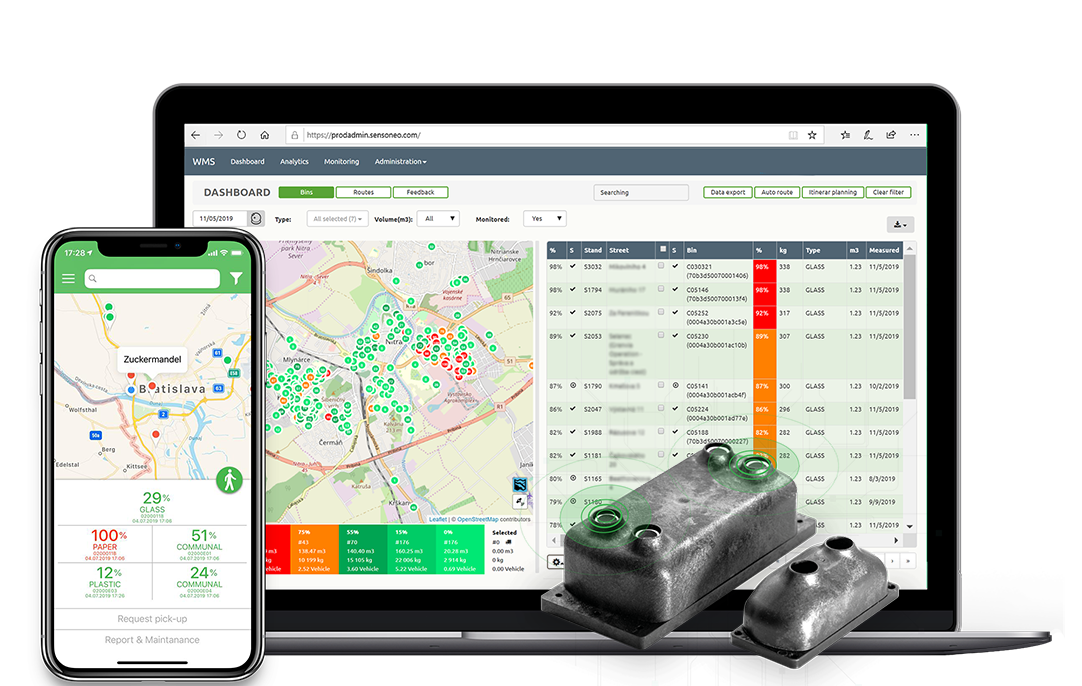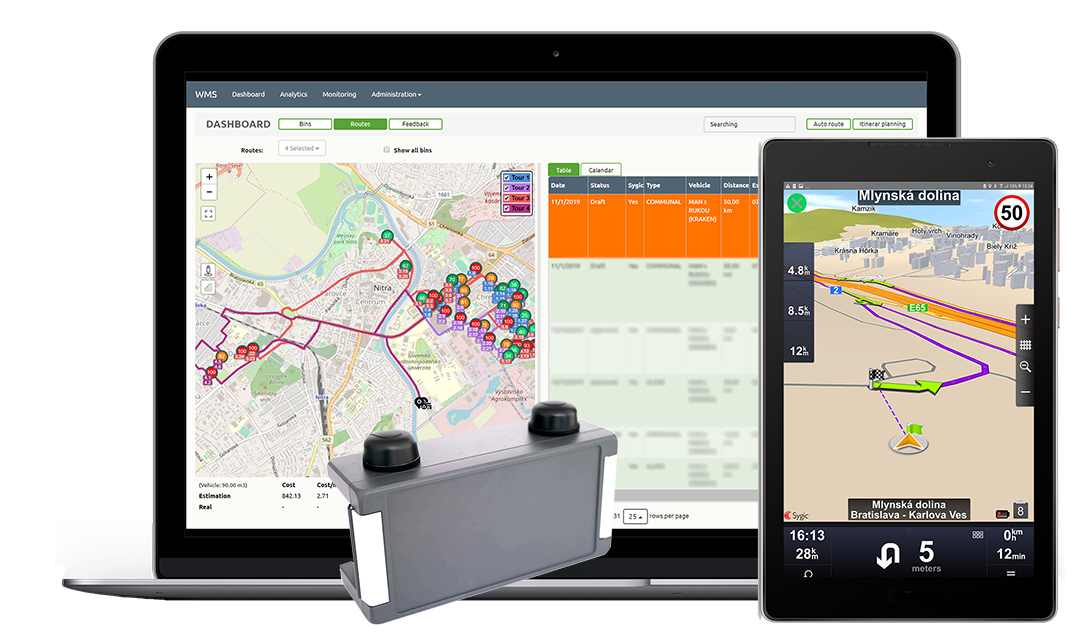 Route Planning for waste collection
Sensoneo Route Planning solution enables you to optimize and automate planning of waste collection routes.
It combines the Smart Waste Management System, Driver Navigation App, Watchdog and it can incorporate data from Smart Sensors and/or Smart Tags. Our Route Planning enables to automate the management of the waste collection routes, based on precise pre-defined data regarding waste collection vehicles, depots, and landfills/ incineration sides. The aim is that every single waste collection route is planned to maximize the utilization of your resources (fleet, FTEs, time).
Maximize the use of vehicles
Fewer kilometres driven per kilogram of collected waste
Read more
Service monitoring for waste collection vehicles
WatchDog is the ultimate service monitoring device for waste collection trucks. The enterprise-grade design consolidates the features of several monitoring devices into just one – WatchDog. Our engineers combined a powerful RFID reader, precise satellite location tracking (GNSS), communication module and Main unit to rule them all.
We built Watchdog with the aim to allow fully automated service monitoring. Automation reduces the margin of error on the data collection and unburdens dustmen. Automation delivers reliable data for Pay-as-you-throw systems or for better waste management in general.
Prevent & discover fraud
Recognize bags, bins or containers and record every pickup. Including Asset ID, GPS location and time&date.
Read more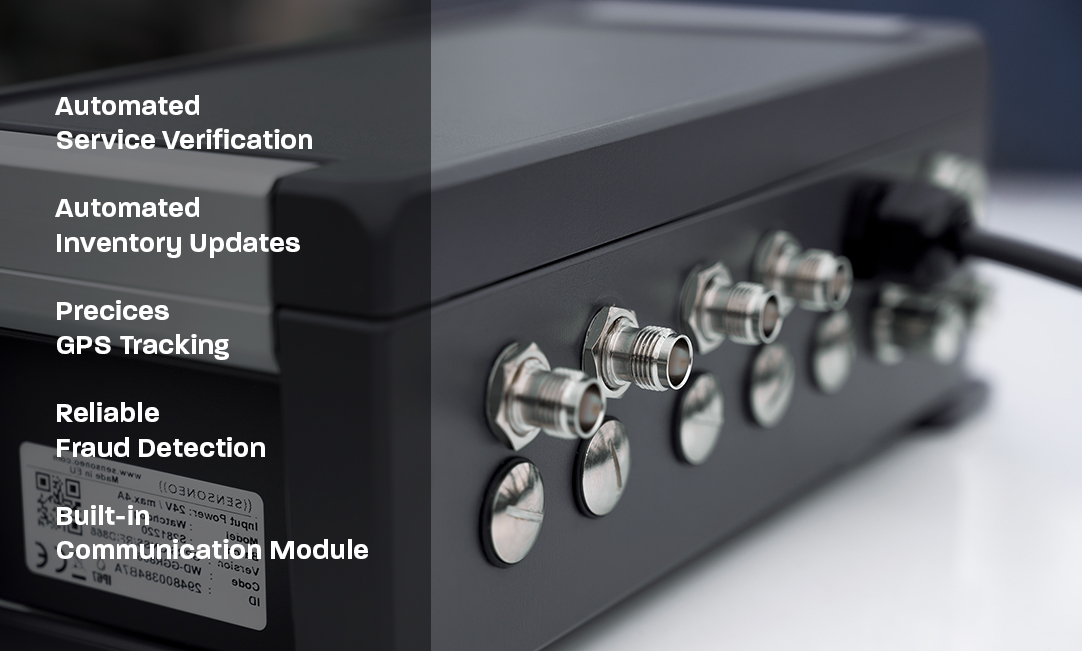 Automated waste logistics for manufacturing
Waste is produced all over the production lines (unpackaging, cutting, clipping …). As material logistics and the whole production flow are carefully coordinated, such attention needs to be paid to the waste collection as well. Sensoneo introduces tools designed to automate the Waste collection process in manufacturing.
Sensoneo Factory Solution combines Smart Buttons and/or Smart Sensors, Smart Waste Management System, a powerful cloud-based platform, and a Collection App for Drivers.  The solution is simple to integrate and you can have it up and running in just 7 working days.
Introduce just-in-time waste collection
Automate task management and enjoy uninterrupted production.
Read more
Remote manhole monitoring
Sensoneo solution provides remote monitoring of rising water levels in manholes or dwells. The solution prevents unexpected overflows ( property damages, health & safety hazards) and minimizes the on-site visits necessary.  Octopus Sensor installed in the manhole (or dwell) measures the water (or any other liquid) levels. It's fully adjustable for different depths up to 25 meters. Thanks to adjustable water level indicators (tentacles), Octopus can detect up to 3 different thresholds. When the water level rises and reaches one of the water level indicators (tentacles), the system sends an immediate notification.
Ensure health&safety. Prevent property damage.
Read more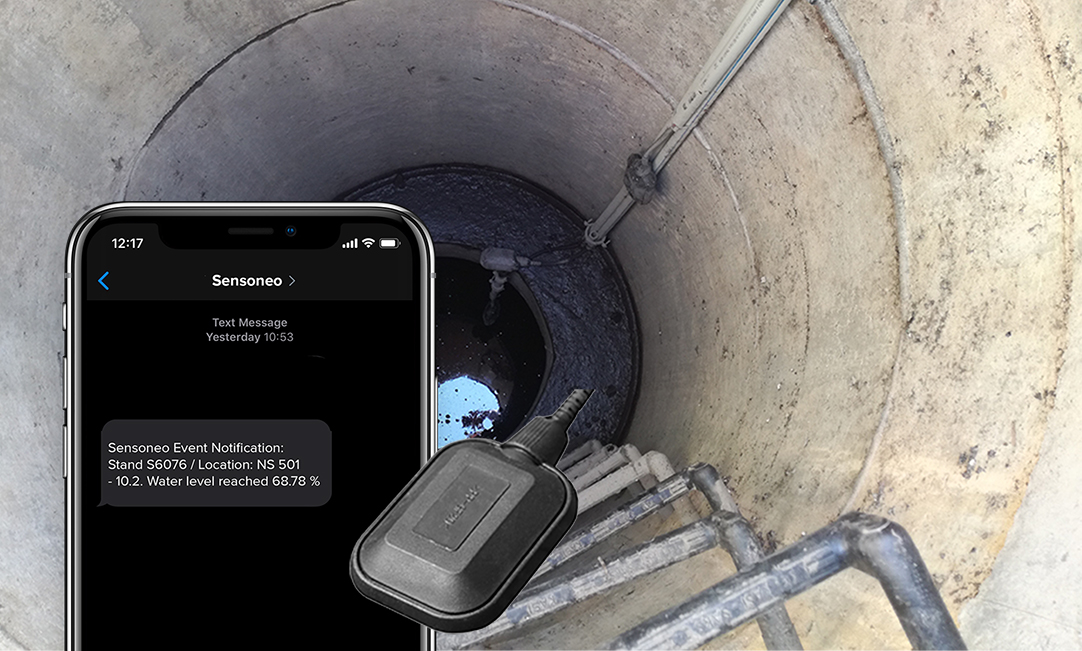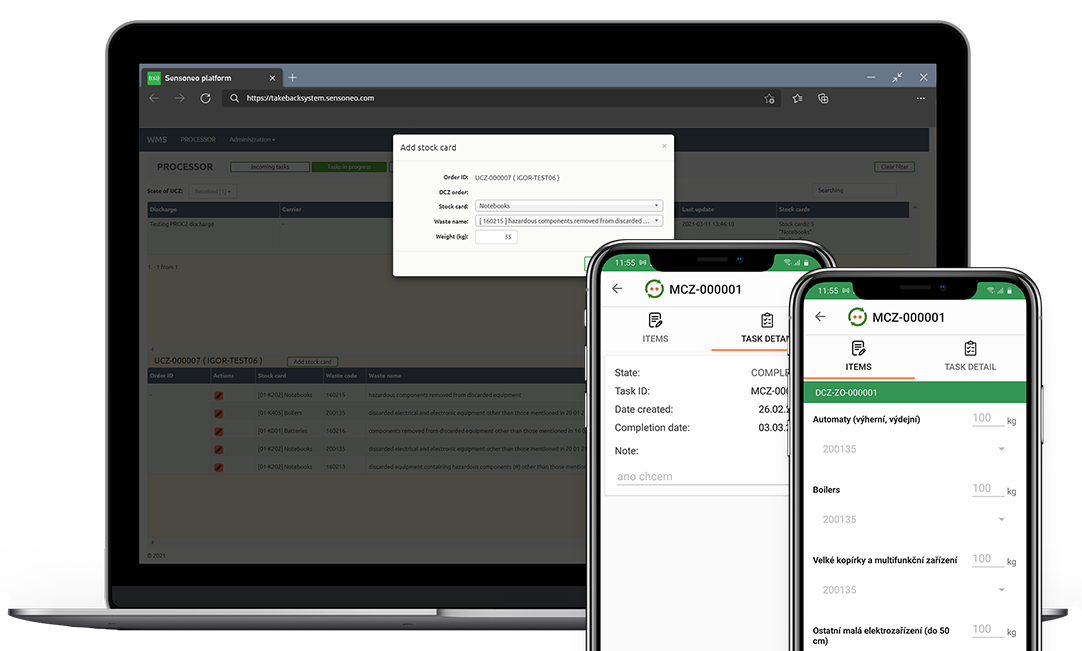 Modern & Transparent Take-Back System
Sensoneo solution streamlines the take-back operation for all the stakeholders: Take-back Operator, Collection Points & Bins, Logistic Partners, Processing & Recycling facilities, and even Reporting Authorities.
Modern & User-friendly tools simplify everyday tasks for all and let you focus on what is important – save waste from ending up in a dump. Benefit from cost savings, transparent waste streams, reliable data collection, quick & easy workflows, and more.
Operate a Complex Ecosystem with Ease
Read more
We are global
15k

active users

360+

projects

62

countries