Reference: Monitoring WEEE Bins
EPR Organization Customer
297 Monitored Bins
Waste Monitoring Solution
Company Description
ASEKOL SK, s.r.o., is the EPR (Extended Producer Responsibility) Organization. On behalf of manufacturers and importers,  they organize and finance a nationwide WEEE take-back system. They collect, recover and recycle electrical waste, batteries and accumulators, as well as packaging and non-packaging waste. They work closely with cities and municipalities, distributors, service stations, shipping companies and waste processors to ensure smooth operation.
Problem Description
In 2020, Asekol collected 11 224 tons of electrical waste. ASEKOL Slovakia has 3,545 collection points throughout the Slovak Republic and more are being added. Asekol bins have a distinctive design – bright red and white metal bin. In an operation of this size, streamlining processes is an interesting topic. Reliable information on the filling of containers is irreplaceable for the Operator to organize emptying.
Expectations
01 Optimize waste collection costs
02 Collect containers when needed & eliminate unnecessary pickups
03 Decrease environmental footprint from waste collection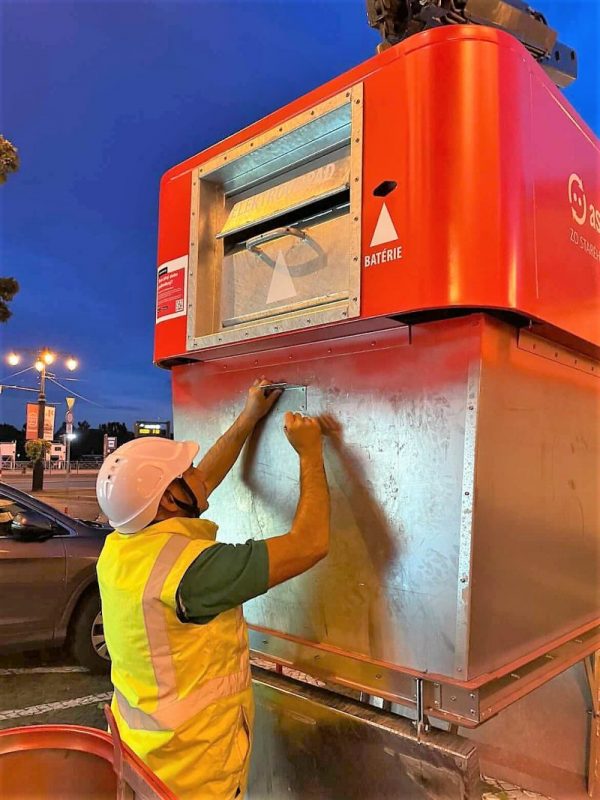 "Each of the containers has its own sensor monitoring the fullness. Basically, if the container is getting full, we can immediately schedule emptying. Even people can download the app from Sensoneo, and from the comfort of their smartphone, they can see how full are the containers nearby. They can find a container nearby that has a sufficient free capacity for their waste." 

Tomas Stefancik

Sales Representative of Asekol Slovakia
Deployment
Red&white containers are distributed across Slovakia in towns and villages. Citizens can responsibly discard any small electronic waste and ensure it is correctly processed with a minimum environmental footprint. Containers include mobile phones, IT equipment, hobby tools, kitchen appliances, electronic toys, and batteries. All small electrical waste with maximum dimensions of 51x36x40 cm belongs to the container.
Asekol has decided to install Sensoneo ultrasonic waste sensors to monitor the fullness of the containers. The sensors are using ultrasound technology to monitor fill levels several times a day (usually every two hours) and update the Operator in the Sensoneo platform. At the same time, Sensoneo calculates the future filling cycle for each container in advance.
The Operator can proactively plan the collection schedule (route) in the Sensoneo Platform using fullness predictions.  At the same time, each container is marked with a sticker for citizens. Citizens know that they can send feedback to Asekol about damaged or overfilled containers.
Results
Lower environmental footprint
The Operator can schedule the collection of full bins and eliminates unnecessary picks. He can make sure to fill up the vehicle. Sensoneo platform always calculates the shortest possible route to collect chosen containers. We maximize the volume of waste per kilometre driven. Minimizing unnecessary CO2 emissions.
Better planning capabilities
Thanks to the Sensoneo fullness predictions, the Operator can plan a route without stress well in advance. Sensoneo monitors the dynamics with which containers are filled. For each one Sensoneo can then predict fullness.
Better quality of life
Thanks to 24 measurements per day, no container gets full without Operator's knowledge. Thanks to sensors, citizens always have an option to be responsible and discard electrical waste the right way. Thus, electrical waste does not end up in landfills and does not pose an environmental risk. Availability is a big factor when it comes to recycling waste. 
"Before the Sensoneo sensors, we planned the collection based on customs in particular regions or based on feedback from citizens or municipalities. Sensors have simply become our eyes. We can ensure we collect only full containers and efficiently plan the routes for our drivers. We have almost completely prevented overfilling of containers, and thanks to the Citizen app, we can promptly solve any sudden problems."

Ronald Blaho

Director of ASEKOL SK s.r.o.
Instant access to accurate real-time data